Plumbing Services in Greenville, SC
The Punctual Plumbers You Can Rely on
No matter the size or scope of the plumbing issue you're facing, Benjamin Franklin Plumbing can help. As your trusted neighborhood plumbing specialist, we know how important it is to address plumbing issues promptly and efficiently. Allow our Greenville, SC plumbing company to ease your worries and take care of your home with our broad range of plumbing services that are always done right the first time. We come to you fully equipped and with a Warehouse on Wheels in tow to get your plumbing up and running again fast!
To schedule an appointment with our Greenville SC plumbers, give us a call at (864) 326-3000 or use our online form. We also serve residents in Simpsonville, Easley, and the entire Greenville County.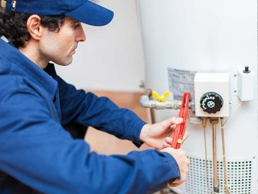 Providing Accurate Results for Your Peace of Mind
Whether you need to install a new plumbing fixture or clean a clogged drain, our professional Greenville SC residential plumbing team has the training and experience to help. We have worked on countless plumbing jobs in the past, and we are proud to say that we can solve even those plumbing issues that other plumbers can't get right. With our Greenville, SC residential plumbing, you can always expect precise diagnoses backed by expert troubleshooting.
Get in touch with us right away for any plumbing problems including:
We also provide options for our Greenville plumbing repairs so you can choose the right one that best fits your specific needs and budget. All services are also conveniently backed by 100% satisfaction guarantees.
Ask About Our Special Offers Today
Our respectful, prompt, and reliable Greenville SC Residential plumbing services are on standby 24/7 for any of your emergency service needs. We also provide special discounts for military personnel, police, firemen, and EMS. Additionally, we have maintenance plans available that can help reduce the occurrence of plumbing emergencies.
For more information on how we can help you, please refer to the plumbing services menu on this page. You may also contact us by calling our office at (864) 326-3000 or submitting an online form.